Money Transactions Report
Posted by Mohammad Rahhal, Last modified by Mohammad Rahhal on 16 June 2015 04:29 PM
This report shows all the all the money transactions represented by either Deposit, Withdrawal, Adjustment, Credit In or Credit Out done by any dealer in the system.

When you choose this report from the reports list a new window appears as the following image.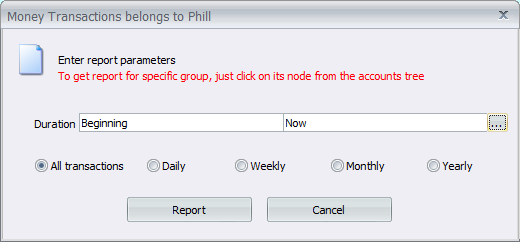 Go to the tree and choose the desired account or Office you want, and you will notice that the title bar of the window will change to the correspondent selected account or office on the tree.


Then choose the duration which can be modified from the

browse

button, and you can set this report to be for all transactions, daily, weekly, monthly or yearly then Press Report.
The following image is an example result for this report:

The result of this report contains many details; the following table shows each column description:
| | |
| --- | --- |
| Column Name | Description |
| Ticket | Shows the ticket ID for each money transaction. |
| Account | The account ID of the affected client for each money transaction. |
| Date/Time | The date and time for each money transaction. |
| Type | The type of the money transaction (Deposit, Withdrawal, Adjustment, Credit In or Credit Out). |
| Amount | The amount of each money transaction. |
| Total Amount | Shows the total amount of the Deposit, Withdrawal, Adjustment, Credit In, Credit Out, Net Credit and the Net Deposit. |
---
See Also
---