Posted by Mohammad Rahhal, Last modified by Diana Alkouni on 02 September 2020 02:43 PM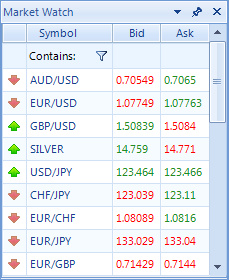 This is the market watch of the VertexFX e-Broker, contains all the used symbols which the account have privilege to trade on.

By default will show the symbols for the first added account in the 

Accounts List

.

It shows bid/ask with with symbols spread as it is set for the selected account.

In case you got another account with different spread you may choose "

Market Watch

" from the Account List to update the spread over the market watch according to the selected account spread.
When you double click on any symbol on the market watch it will be reflected to the Symbol name cell on the New Position panel.

There is a filter option on the top of the symbol column used to search for certain symbol.
---
---