Posted by Mohammad Rahhal, Last modified by Yousef Ibrahim on 03 July 2012 04:37 PM
In the Chart Window you will be able to see any chart that belongs to any symbol that exist in the Market Watch, just to select the desired symbol from the chart window and choose "Draw Chart ", for example the following chart belongs to the one day Gold symbol:

In web trader chart there are many options and they are as the following:
Add Indicator
After you selected the desired indicator from the drop down list, press on the "Add Indicator" button to be added to the current chart.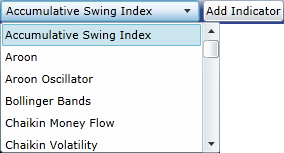 Draw Chart
Using this option you can draw the chart of any symbol, by choosing the desired symbols from the symbols list and also choose the desired periodicity then press on the "Draw Chart" button.
Chart Zoom
On the top of the chart there are three buttons to zoom the chart (Zoom In, Zoom Out and Reset Zoom).

And also in the bottom of the chart you can control the zoom period and shift the zoom area.


Line Studies
By this option you can add object to the current chart, select the desired object from the line studies list and choose the color of the object then press the Add button.
Chart Tools
Three options are in the chart tool list:
Delete Selected Object(s).
To delete the object(s) from the current chart.

Toggle Darvas Boxes.
To add/ remove Toggle Darvas Boxes on the current chart.

Save As Image.
To save the current chart on your PC as an image.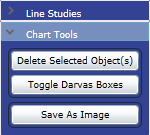 ---
See Also
---