VertexFX Physical Trading
Posted by Mohammad Rahhal, Last modified by Diana Alkouni on 08 September 2020 07:06 AM
Connecting your Physical Trading business to VertexFX resources you need
Hybrid Solutions has endeavored to set-up Physcial Trading Market through the VertexFX platform in order to simplify the physical trading. As the market of any product is open, many will have the chance to buy the wrong product or commodity. Many have argued that having an account in gold and other precious metals in paper/certificate will be blown up with the physical market.

Hence, buy the real thing and get out of any investments that give your paper instead. To have a sound investment in physical gold, listed below are few of the things you need to know. Banks and brokerage houses are the major holders of the precious metals and thus contribute in the precious metal exchange traded funds.
VERTEXFX PHYSICALTRADING OBJECTIVES
The objectives of promoting physical trading market in VertexFX are:

To set up an international level trade association for representing physical tradable instruments importers, dealers, traders, jewelry merchants, ornament dealers, exporters, bullion banks, nominated agencies, investors, consumers, refineries and all stakeholders connected directly or indirectly with the physical trade and industry.

To identify the problems faced by various stakeholders connected with physical trade and industry and to find out likely solution to such problems for achieving overall growth of bullion trade and industry.

To promote savings and investments in gold and silver and to evolve a system of seamless trading, investment, vaulting, electronic record keeping, dematerialization and other value added services.
EBUSINESS SOLUTION
You can do physical tradingat anytime day or night as there is 24-hour trading. If you are suddenly inspired by a sudden optimism about a certain bullion you can take advantage of that purely by logging into your trade account and clicking a few buttons. It does not have to cost you an arm and a leg either, you can trade as little or as much as you wish, when you want to.
Multi-Level Symbol settings
VertexFX Trader activates the Multi-Level Symbol Settings, from which you can edit all your symbols using multi-leveled tree manners, add margin/physical symbols groups, and manage your symbols inside these groups, edit group, or edit multiple symbols, transfer symbols, and all these features are all available with a great easy interface.

CUSTOM SOLUTION
Traditionally, most of the available systems do the trading by the amount LOT and referenced on the USD. Trading by physical is standing for the ability to change the trading amount on the system, according to simple configuration from LOT for example to another trading units, like Kilo, Gram, Ounce, or any other amount unit, and the ability to reference over some other currencies rather than the USD.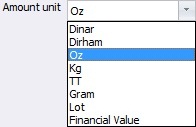 PHYSICAL TRADING MARKET TRADE LIFE CYCLE
When you join the VertexFX physical users' network, you will witness a different trading technology, your vision of Buy and Sell icons buttons will not remain the same,you will experience a state of art, built over high standards of the ease of use philosophies, attractive on the style, creative on the idea, new on the functionalities, different on the layout, easier for use, efficient on time management.

Here is how the physical trade cycle goes:
Double click on the desired symbol from the market watch.
Set your order amount and start buying positions.

You will see you open positions in the

Trade Panel

.
To deliver the positions go to the

Net Trade Panel

.

Right click on the desired symbol and choose "Delivery".

Choose the delivery method to be "Pick up from Office" or "Deliver to door step".
MACHINE INDEPENDENT SOLUTION
VertexFX Web Trader is considered to be a machine independent Trading terminal, as it supports all of Desktop, WEB and mobile terminals and fully tested at all traditional web browsers with smooth online market movement, real time market order placement, with the same security of the windows based system.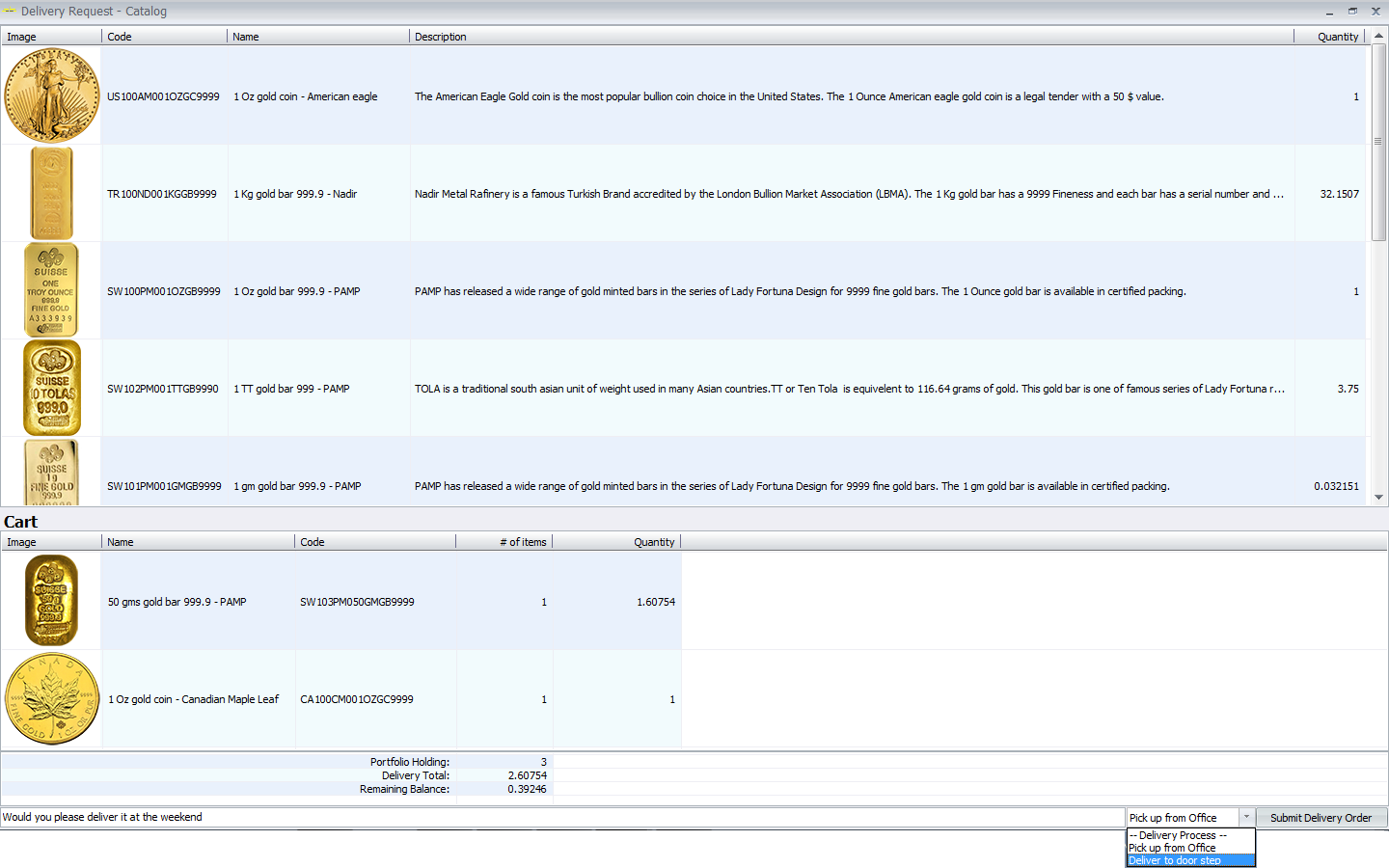 The Delivery Request Screen is opened whenever the client chooses the Deliver option from the

Trade

or 

Net Trade Panel

, it contains the following:
| | |
| --- | --- |
| Column Name | Description  |
| Image | The image of each delivery item |
| Code | The item ID from each delivery item |
| Name | The item Name from each delivery item |
| Description | The item description from each delivery item |
| Quantity | The allowed item quantity to be delivered from each delivery item |
When you double click on any delivery item, it will be listed under the Cart which contains the following:
| | |
| --- | --- |
| Option | Description |
| Image | The image of each delivery item |
| Name | The item Name from each delivery item |
| Code | The item ID from each delivery item |
| # of items | The number of units to be delivered. This can be changed if you double click on it and insert the desired units amount |
| Quantity | The quantity of each delivered item |
| Summary List | Displays the Portfolio Holding, Delivery Total and Remaining Balance |
| Comment | To insert the desired comment to be received to the dealing room when delivering the item. |
| Delivery Process | To choose the delivery process method, either "Pick up from Office" or "Deliver to door step" |
| Submit Delivery Order | To confirm the delivery order and sent the request to the dealing room, after pressing Submit you may print the trade confirmation |
---
---
---