Logon and Connecting to the system
Posted by Mohammad Rahhal, Last modified by Diana Alkouni on 08 September 2020 07:13 AM
Log on to the system 
You can log in to Backoffice terminal by:


          1- Choosing the start bubble  

from the upper left corner and choose login

.




          2-

You can go to the toolbar and select the Home option then go to the Administration tab and choose login

.
          3- Another way is by going to the Quick Access Toolbar on the top left corner  and choose login .

          4- You can also easily login to the Backoffice platform by pressing Ctrl + L.

          5- Also double click on the  in the right bottom corner will open for you the logon window.
After that a small window appears to you, fill-in the valid user name and password.

You can click on the check box: Save username and password so you won't have to type your username and password every time you log on.

Server: This term is developed to specify the server you connecting to, and it will be useful when you have a Backup Server to switch your connection to when you are facing disconnection case with the main server, it is required to select the backup server, or fill server IP and Port number as the following format (IP:Port).
If you are connecting through Proxy, make sure the option "enable proxy server" is checked.

The proxy button will be activated and by clicking on it, you will access the proxy server window and configure your proxy.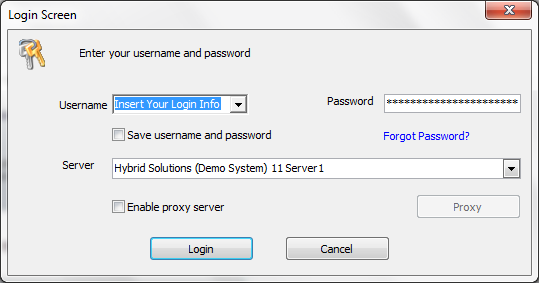 Connection Status:
After filling all the blanks and press on the login button, the terminal will be connecting to the server 

.

If your login information is correct the system will be connected but in waiting mode 

 till all the data are loaded.

When the waiting mode finishs, you will be officially connected to the system 

 and ready to use.
Trusted Plugins
After your are logged to the system, you can check some trusted plugins in VertexFX from the following pop-up message:

Click on "Check Plugins" and the following window will appear: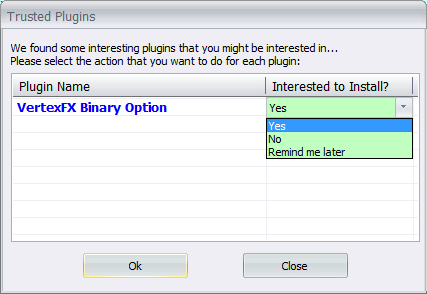 Performing a double click on the desired plugin will open the plugin's related link opens at 

vStore

 to install it.

After you install the plugin, you will find it under the Plugin Toolbar.

Quick Access ToolBar:
Contains the following options:
Login  to connect to the system.
Logout  to disconnect from the system.
Refresh Accounts  to refresh the

accounts tree

.
System Options  to open the

system options

window.
General Help Topics  to open the

VertexFX Backoffice

 

help link.
Live Help  to open

live chat help

link and chat with the technical support team.
Release Notes  to open the release note link.
About  to open the help about screen.
Quick Access Toolbar list  to customize the options visibilty over the quick access toolbar list.


---
See Also
---