Posted by Mohammad Rahhal, Last modified by Diana Alkouni on 08 September 2020 07:38 AM

The Plugins Toolbar contains three tools by default (Calculator, Visit Our Website and Contact us), you can also add more plug-ins from this button to make this plugin easy to access by your terminal by. To perform this, click on 

.
To add a new plug-in, press on the Manage Plugins button and the Plug-ins Manager window will open as the following image: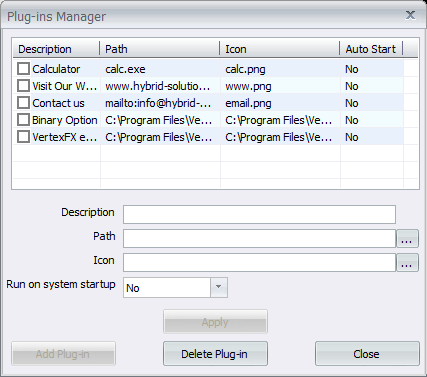 After you fill all the blanks about your new plug-in press Add Plug-in then your new application will be showing in the Plugin Toolbar. You will be able to delete an added plug-in as well from this window.
If you want to add some of your applications (For example ABC.exe) on the plugins toolbar, you must add a shortcut for this application (ABC.exe) in the following path: C:\ProgramData\VertexFX Plugins.
And if you want to add a specific icon for this application in the system, you must put an image with the same name as the EXE name (ABC.exe), but the image must be a PNG image (ABC.png).
And beside the exe which may be found on the C:\Program Files\..., assume that the EXE name is ABC.exe, then it is a must to add an image called ABC.png beside this exe, this way you will have a unique icon for your system in the Plugins tab, otherwise, if there is no image, a default image will be added in the Plugins tab.
---
See Also
---