Posted by Mohammad Rahhal, Last modified by Diana Alkouni on 07 September 2020 12:58 PM
This report shows all the current pending Limit/Stop orders and SL/TP orders in your whole system or for a certain account(s)/ office(s).

When you choose this report from the reports list a new window appears as the following image.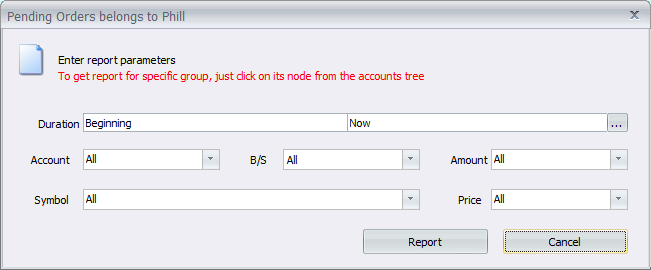 Go to the tree and choose the desired account or Office you want, and you will notice that the title bar of the window will change to the correspondent selected account or office on the tree.


Then choose the duration which can be modified from the 

browse

button, and you can change this window fields so the report will be more specific upon to your request and then Press Report.
The following image is an example result for this report:

The result of this report contains many details; the following table shows each column description:
Column Name

 
Description


Account

Shows the account ID (name) for each client who has pending orders.

Order

The order ID for each pending order.

Type

The type of each pending order (Limit/Stop or SL/TP).

B/S

Shows if the pending order is buy, sell, buy limit, buy stop, sell limit or sell stop order.

Amount

The amount of each pending order.

Symbol

The symbol name of each pending order.

Price

The sent price of each limit/stop pending order.

SL

The sent price of the stop loss for pending orders.

TP

The sent price of the take profit for pending orders.

Date/Time

The date and time when the pending order was placed.
See the Pending Orders Report video
---
See Also
---