Posted by Mohammad Rahhal, Last modified by Diana Alkouni on 08 September 2020 07:10 AM

The Plugins Toolbar contains three tools by default (Calculator, Visit Our Website and Contact us), and you can also add more plug-ins from this button

.
To add a new plug-in, press on the Add Plug-in button and the Plug-ins Manager window will open as the following image: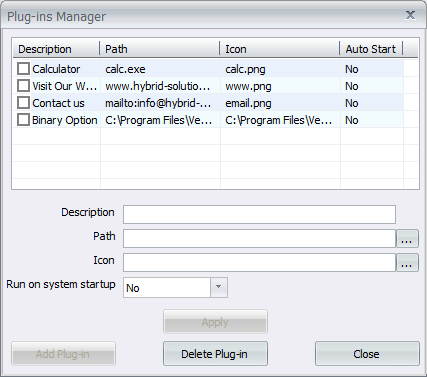 After you fill all the blanks about your new plug-in press Add Plug-in and your new application will be showing in the Plugins Toolbar. You will be able to delete an added plug-in also from this window.
If you want to add some of your applications (For example ABC.exe) on the plugins toolbar, you must add a shortcut for this application (ABC.exe) in the following path:
For the client terminal in C:\ProgramData\VertexFX Plugins .
And for the backoffice terminal in C:\ProgramData\VertexFX Backoffice Plugins.
And if you want to add a specific Icon for this application in the system, you must put an image with the same name as the EXE name (ABC.exe), but the image must be PNG image (ABC.png).
And beside the exe which may be found on the C:\Program Files\..., Assume that the EXE name is ABC.exe, you must add an image called ABC.png beside the exe, this way you will have a unique icon for your plug-in in the Plugins tab. However, if there is no image, a default image will be added in the Plug-ins tab.
---
See Also
---