How to setup a new White Label?
Posted by ZZ-AbdelMajid Hussein, Last modified by Hybrid Solutions on 18 February 2014 05:28 PM
White Label is a Subsystem that runs as a part of your tree where you can manage all its dealers and so their corresponding privileges and all about their security settings. Follow the coming instructions for the white label settings:
Creating a dealer for the White label
After you get the white label sub-system for sure before delivering it to your white label office, you will need to create for them a dealer so they can login to the white label Backoffice. Follow up the next steps to create a new dealer for your new white label:
Login to your Backoffice using the Admin dealer and open the dealer's tree.

You will find "Dealers Department" for the white labels already created, you can start by creating a new group of dealers inside this department.
So press right click and choose the option New and select the option Group.
A small window for creating a dealers group will open for you so fill it with the desired details and set the account tree privilege to the new white label by selecting the white label from the accounts tree.
After you create the new group for the white label dealers, now you can create a new dealer for this white label.

So press right click on this new group and choose New and then select Dealer.
Now a new small window will open for you to fill it with the new white label dealer details.

So fill the required fields and you will notice the by default the account tree privilege will be set the new white label accounts tree.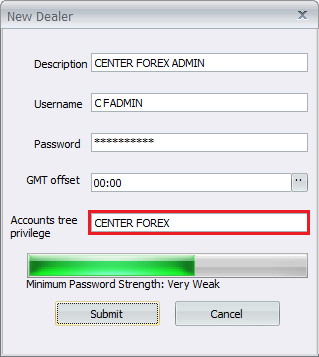 By creating the new dealer you can witness it in the dealer's tree inside the white label dealers group.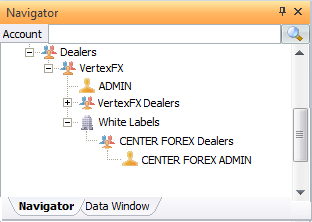 Editing Dealer privileges
Although the created "White Labels" Department has be default correct assumed priviledges, you can double check your newly created dealer for this White Label to make sure he has no SYSTEM-LEVEL privileges.

So press right click on the top of the while label dealers department and choose Edit Parameters.
And so on all the dealers inside the white label dealers department will inherit only the privileges with true value.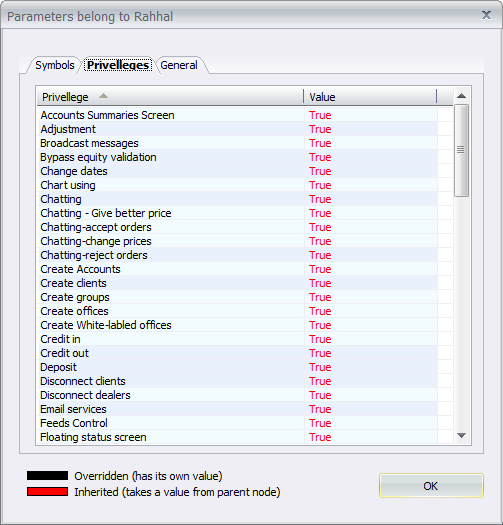 White Label Quotes
Bear in mind that ADMIN Dealer for Managing your Clients Quotes has full privilege to see the whole tree including White Label offices, so it will CATCH-ALL incoming orders even from those White Labels, so close CHATTING Screen to avoid that or you can create a new dealer with only privilege on your real tree without White Label offices to manage the client's quotes. So none of the White Label quotes will go to your Backoffice. And if you are logged in with the Admin Dealer close the Chatting screen to avoid receiving white label quotes.
Floating & Settled Status
Now for the floating and steeled status managing it can be easily done from your tree just right click on the node you want to see its Status whether its Floating or Settled. You can get your tree status by right click on the real office with out taking the White Label office status in consideration.
---
See Also
---